Case study: AutoLogic Systems website
Challenge
AutoLogic Systems is a growing business distributing advanced software solutions that optimise every stage of a supply chain. These solutions range from increasing the number of products that can be fitted into a carton, pallet or container to increasing the efficiency of manufacturing and warehousing to reducing the number of truck miles needed to deliver products. AutoLogic is a distributor for several world-leading supply chain software providers and offers services to help customers select the best solution and implement it for their business.
AutoLogic had previously invested in many areas of marketing, but felt that the website was not performing properly. They looked for a plan to evolve their website incrementally rather than in one big step.
Solution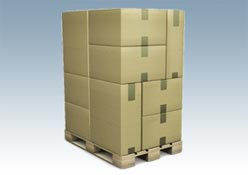 unity*dc analysed the website's role in the marketing programme and determined that the most critical pages in the site were the homepage and main product pages – these pages being used as the areas that new and existing customers would first visit. unity*dc redesigned these key pages to demonstrate AutoLogic's expertise in each customer area, and clearly explain the major product benefits. The branding and layout for the other pages in the site was also developed to give a more professional, polished look in keeping with the other marketing activity.
Results
This gave AutoLogic an incremental, yet visible, shift in their website, as opposed to a dramatic step change. Future developments are planned, each building on the return being generated by the first phase. This enables AutoLogic not only to spread their web marketing costs and work input over time but also helps maintain the engagement of an audience who will likely need their services in the future but not right now.
Client comments

We approached several companies with a view to tackling our requirements for revamping our website. Only Jeremy Mai at unity*dc fully understood our requirements and came up with detailed proposals that provided us with the confidence to go forward. We have since been delighted by both the company's design capabilities and their technical knowledge which are reflected in our new look website. They have provided us with an outstanding platform for future improvement and development of the site.

Graham Carter, Managing Director of AutoLogic Systems
Similar projects
Marketing that converts projects
Technology & IT projects
What clients say about unity*dc
"Jeremy and his team put together our new web site at Dot Net Solutions including the copy. He was a pleasure to work with and vary patient with all of the changes we asked for. The result was dramatic. A vastly improved customer facing web presence that has received many accolades from clients and partners. I would recommend Jeremy and would hire him and his team again."
Michael van Noorden,
formerly Head of Sales at Dot Net Solutions