MLL Telecom Brand Essentials
The challenge:
Re-positioning the MLL Telecom brand to open up bigger opportunities.
MLL Telecom was a firmly established specialist operator in the mobile telecoms field, with almost 20 years in the market. They had also been working with public sector clients for many years, but weren't as well-known for this side of their business.
MLL had brought in new investment and a brand-new leadership team, who had been charged with transforming the business through growth.
The new CMO was concerned that the existing marketing materials didn't do justice to MLL's expertise. He asked unity*dc to help differentiate MLL in a competitive marketplace, so they could appear larger than their current size and open doors to larger contracts.
What unity*dc did
unity dc invests a lot of effort and time learning about our clients' business in detail. In MLL's case we took this even further, carrying out perception research into MLL, speaking to customers, prospects and staff. Then we carefully reviewed the marketing communications of MLL's competitors, partners and other relevant players in the market.
We ran a practical workshop to present back and make sense of the research, sharing it with key stakeholders from the leadership team and other areas of the business. We showed what we'd discovered: the unique differences of and the special qualities that their customers value about them. Finally, we distilled all of this down into MLL's unique brand essence.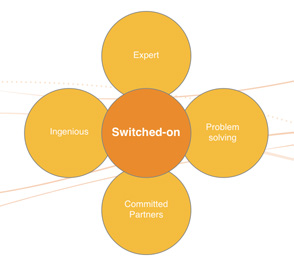 From this, we assembled a practical brand toolkit, comprising visual style, a direction for imagery and a clear tone of voice that are uniquely MLL. The toolkit was designed to be used not only by marketing professionals but also by staff preparing communications like bids and proposals and reports.
In addition to the brand toolkit, unity*dc worked with creative photographers to produce a library of photography bespoke to MLL. This was a distinct departure from the typical stock photography used by MLL's competitors. The photography illustrates MLL's character by featuring real employees in real situations, and it is now used to add impact and authenticity throughout MLL's communications.
Results
Having a clear brand direction and toolkit ensures that every piece of MLL Telecom's communication is consistent, strong and cuts through competitor noise to connect with decision makers. The brand toolkit we developed for MLL has been used to create new communications in web, printed materials, displays, vehicle graphics and email.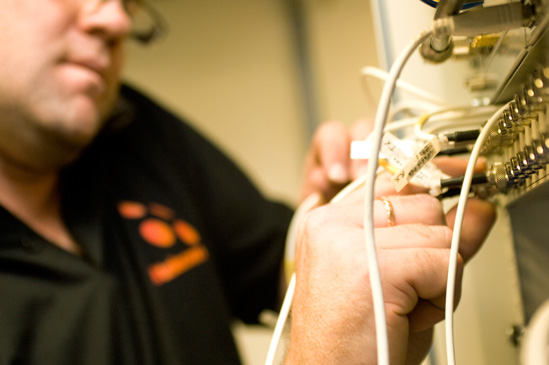 Several key bids prepared with the help of the toolkit have been successful. And the photography, featuring MLL team members, has helped generate staff buy-in and support for the marketing department's efforts. Many members of the technical and engineering team now regularly contribute valuable content for marketing.
Client's view

One of my key objectives as CMO is to give the company a comparable profile to much larger organisations than ours. unity dc were quick to understand the importance of this and came up with novel ways to show our true USP (the skill and dedication of our people) and at the same time create an appearance that puts us on a par with the larger players in the market. The "Brand Essentials" process was enjoyable and the plain English brand toolkit they produced is something we now use to enhance our communications throughout the business.

Richard Brandon, formerly CMO of MLL Telecom
Similar projects
Brand differentiation projects
Technology & IT projects
What clients say about unity*dc
"Looking for a reliable web and design agency in today's market is no easy task for a company that wants to review its image and provide its prospective customer base with an informative and well balanced view of what it does. Before appointing unity*dc, we looked at several other agencies and found that unity*dc quickly and thoroughly understood our needs, and more importantly provided us with an effective and flexible solution to all our requirements within the agreed costs and timescales."
Tony Dilks,
Balance Partnership