MLL Telecom website
The challenge:
Create a website that gives MLL Telecom traction in different market sectors.
Although MLL Telecom had an established website, their new CMO felt it had a number of performance gaps. Firstly, it was too generic to speak directly to their key audience segments. Secondly, it explained their basic service offering but didn't work hard enough to explain why a professional buyer should choose MLL. Finally, MLL felt the site looked bland. It just didn't do justice to their industry strength and expertise. MLL asked unity*dc to redesign the website and make it work harder for them.
What unity*dc did
The first thing we did was realign the structure of the website according to MLL's customer segments, with content directly addressing the specific needs of each vertical segment. Visitors now land on the homepage and can immediately select their vertical to find out about MLL's offering for them. More specific detail is just a single click away.
We designed a totally new look for the website that can be seen as uniquely MLL from the first glance. We made use of the brand photography we had already completed, to strengthen the visual impact of the site, as well as using some video footage. This gave the site a clear and distinctive look which sets it apart from competitor websites.
One of MLL's key goals is to become a thought leader in their sector, so we added capability for self-managed news, events, white papers and even a group professional blog. We recognise that thought leadership takes content as well as technology, so we devised and delivered a content workshop to inspire and equip the engineers at MLL to provide the vital ongoing content for the website.
Results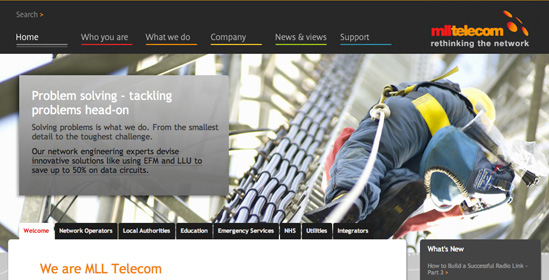 MLL's new website works hard for them in a number of important ways. It conveys a sense of a larger organisation than they are at present. It speaks directly to each segment of their target audience in their own language. Its dynamic content helps drive MLL towards their goal of thought leadership. And finally, through integration with the clever CRM database we built for them, it captures and qualifies new leads which can be put to immediate use.
Client's view

We operate in a variety of different segments, each with their own needs and messaging priorities - yet we only have one website. unity*dc created an inspired design for the website where visitors from each segment receive immediate content just for them right on the homepage, and are lead on a pathway through to more detail and useful "sticky" content deeper in the site. Thanks to unity*dc's tight integration with our marketing database, we can capture that interest as qualified leads directly on our website.

Richard Brandon, formerly CMO of MLL Telecom
Similar projects
Brand differentiation projects
Technology & IT projects
What clients say about unity*dc
"Jeremy and his team put together our new web site at Dot Net Solutions including the copy. He was a pleasure to work with and vary patient with all of the changes we asked for. The result was dramatic. A vastly improved customer facing web presence that has received many accolades from clients and partners. I would recommend Jeremy and would hire him and his team again."
Michael van Noorden,
formerly Head of Sales at Dot Net Solutions